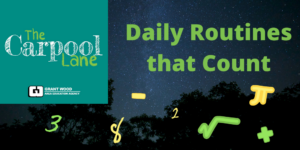 Post by Becky Thorson, Grant Wood Area Education Agency Math Consultant
Many families use the bedtime story ritual to 
reinforce reading development at home, reading a bedtime story before their little ones drift to sleep. However, early math learning can also be part of those same at-home rituals and routines. Many parents tend to lean on the school to develop students' math skills, when there are numerous rich opportunities for our littlest learners to mathematize the world around them in their day-to-day lives.
DREME Network
Parents can check out the ideas shared by the knowledgeable team at the
DREME Network
(Development and Research in Early Math Education). Most of their ideas involve integrating math into playtime. Who knew math could be so natural and FUN? Their suggestions will have you talking math in everyday ways with your emerging mathematician in little to no time at all.
Here are
a few examples
of how to integrate math into playtime. DREME Network resources even provide parents with a free download kit in English and Spanish (linked below).