Grant Wood AEA purchases a variety of digital resources to support teaching and learning. These videos, images, books, activities and more are provided to our accredited public and non-public Pre-K—12 schools and can be accessed by students and educators at home or school.
For training and support:
Dianna Geers, GWAEA Teacher-Librarian, 319-399-6481
Kathleen Goslinga, GWAEA Digital Resources Lead, 319-399-6582
Bridget Speer, GWAEA Teacher-Librarian, 319-399-6823
For login information:
Question about your login please complete this form and someone will be in touch.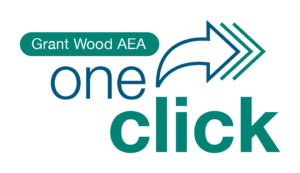 Log in to GWAEA OneClick
The following districts should use their district ClassLink launchpad to access the resources and links. Cedar Rapids CSD, Iowa City CSD, Lisbon CSD, Marion CSD, Tipton CSD and Washington CSD.
Digital Resources Usage Reports
GWAEA Digital Resources