Future Ready Iowa is an initiative to build Iowa's talent pipeline, led by Governor Kim Reynolds and the Future Ready Alliance. 
Why Do We Need the Future Ready Iowa Initiative? Education or training beyond high school has become the new minimum threshold for Americans to earn a living wage and attain middle class status. In 1973, only 28 percent of U.S. jobs required education beyond a high school diploma; by 2025, almost two out of three jobs in the nation are projected to require at least some postsecondary education or training.
Future Ready Iowa is not a brand new program, but rather a collaborative approach to highlighting best practices, nurturing high-quality partnerships, and ensuring hardworking taxpayer dollars are focused on those areas that will maximize progress toward our goal.
Visit the Future Ready Iowa or the Future Ready AEA website to learn more!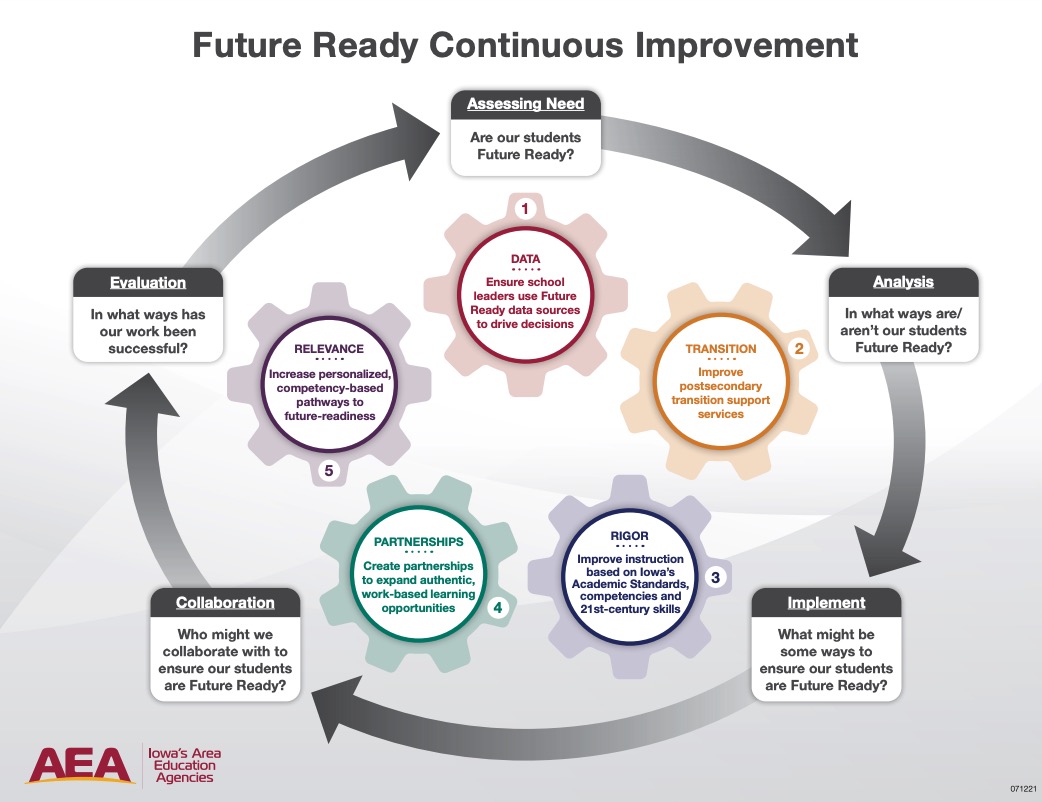 Iowa's Core Strategies
Building Future Ready learners is a continuous cycle that uses Iowa's 5 Core Strategies of Data*, Transition*, Rigor, Partnerships*, and Relevance. Explore the resources below to begin developing Future Ready learners in your school!
*Current state and Grant Wood AEA priorities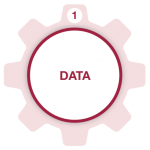 Data
Support leadership, school improvement, and/or counseling teams to effectively use a variety of Future Ready data sources and think-abouts in their evidence-driven planning and alignment with ESSA and Differentiated Accountability.
Where can I find data about student readiness and success in postsecondary?
What are data points we should be focusing on for Future Ready success?
How do I assess our current Future Ready Culture?
---
Transition
Ensure integrated strategies for improving PK-12 to postsecondary transition services for all students, with an emphasis on under-represented students, especially those with disabilities.
What does it mean to be Future Ready?
What are the transition skills students most need?
How can I embed transition skills into my classroom?
What opportunities are there for students during and after high school?
How do we communicate opportunities after graduation to help students find their pathway?
Why is the FAFSA important and how do we support students in completing it?
---
Rigor
Identify and improve high‐quality instruction based on Iowa's Academic Standards (content, 21st-century skills and Universal Constructs), especially for high‐need and underserved students and on closing opportunity gaps.
How is my core supporting Future Ready goals?
What are the top needs for the future workforce?
How can we support students in the development of skills such as communication, collaboration, critical thinking, productivity and flexibility, and adaptability?
---
Partnership
Expand high‐quality, work‐based learning experiences in various fields and careers for all students by enhancing partnerships in education, business, and community.
How can we provide experiences for students beyond the classroom?
Where do I find willing partners to support and connect with our programs?
Which industries are in most need of workers in my region?
---
Relevance
Support the implementation of learner-centered, personalized, and/or competency-based education as pathways to future readiness and success.
How can we increase learner engagement?
What types of opportunities are available for students to become Future Ready during high school?
How can I embed future ready concepts into my classroom?
What types of careers are in high demand?