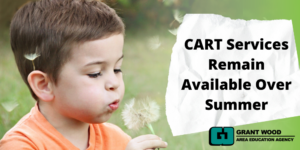 Grant Wood AEA's Childcare Alliance Response Team (CART) provides behavioral support for children ages birth to five who are experiencing challenging behaviors in a childcare setting and are not identified as having special education needs.
This YEAR ROUND program is provided at NO COST to the family or the childcare programs.
Services include:
General education interventions/strategies
Collaborative development of individual plans
Referral to other resources as necessary
Because CART is a Benton, Cedar, Linn, Johnson, Jones and Tama County Early Childhood Iowa Grant funded program, referrals to this program are limited only to early care and education providers in those counties.
Parents or guardians seeking help from the CART program can call Grant Wood AEA at 319-399-6746 or fill out the referral form on this page.
Help us spread the word! The referral form can be found at this simple URL: gwaea.org/CART