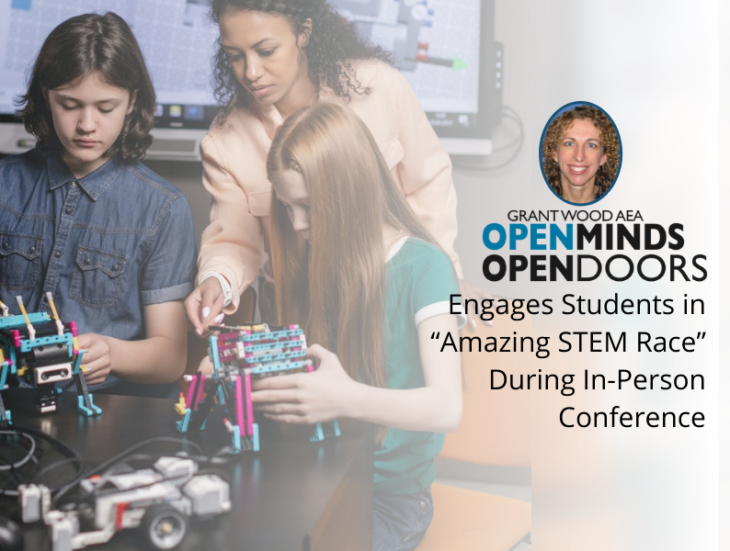 On Friday, Oct. 8, 184 students representing 24 local schools will gather for a new approach to the annual Open Minds, Open Doors STEM conference. These 7th and 8th grade girls will spend the day exploring future pathways in STEM related careers, and this year's conference will have a competitive challenge element to drive their learning.
Each year the conference, coordinated by Grant Wood Area Education Agency in partnership with Coe College and the American Association of University Women (AAUW), includes guest speakers, career workshop sessions with engaging, hands-on activities led by area women working in STEM related fields.
After last year's conference went virtual, the 2021 event is back in person and with a twist. For the first time, participants will engage in an interactive and competitive clue-based challenge event, modeled after "The Amazing Race". The "Amazing STEM Race" will give students an opportunity to work with their school groups to solve clues and complete a series of STEM challenges.
"The winning teams will walk away with a sense of accomplishment and some bragging rights," shares Susie Green, Student Programs Specialist at Grant Wood AEA. "The challenge component has been designed to engage the students, which we find to be particularly important at this time in their education, and in our world."
This year's conference has 18 career workshop sessions conducted by women representing 15 different STEM related businesses in the Cedar Rapids - Iowa City corridor. "Volunteer slots always fill up fast." Green says, "Often they'll contact me about participating before I can reach out to them! I think this demonstrates the importance of Grant Wood AEA's mission in cultivating our next generation of STEM citizens."
Grant Wood AEA supports more than 72,000 students in public and accredited non-public schools in seven counties. Grant Wood AEA has coordinated the Open Minds, Open Doors conference since 1996, and annually invites students from Benton, Cedar, Iowa, Johnson, Jones, Linn and Washington counties to participate. This year's conference is being held at the Coe College campus.