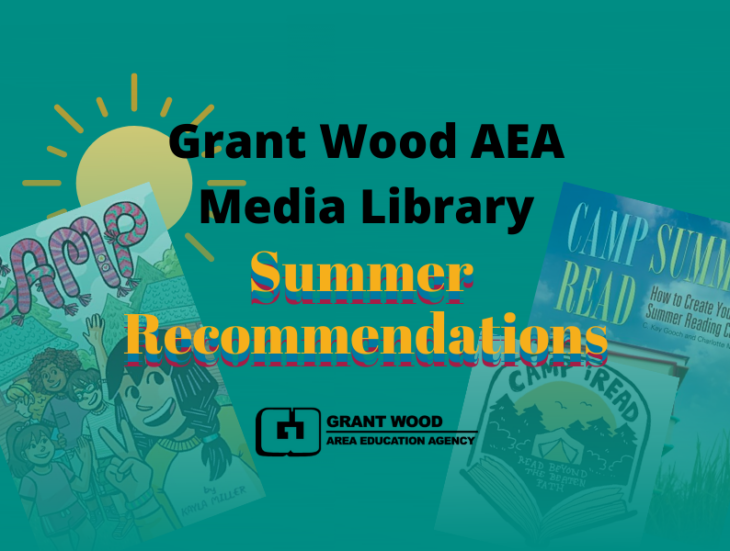 The Grant Wood Area Education Agency Media Library is open and ready to serve learners this summer through our 6th St. facility and 24/7 online resources. Many public libraries across Grant Wood AEA's district have summer learning programs coordinating with the iRead theme of "Read Beyond the Beaten Path," encouraging readers to dive into a summer adventure through the pages of a book. Take advantage of all that the Media Library and area organizations offer to help students and teachers forge their own path this summer!
Readers can use digital devices to access adventures of their own, such as the graphic novel, "Camp", on

MackinVia

. Once downloaded, they can read from whatever location their summer adventures take them. Camp by Kayla Miller:

Olive is excited to spend two weeks at camp with her friend Willow, but Willow struggles to make friends with the other campers, and Olive feels overwhelmed to be Willow's only friend. After the two have a fight that leaves them not speaking to one another, Olive wonders if they'll ever be friends again.

Middle grade.

Grant Wood AEA partners with the Cedar Rapids Kernels in their summer reading program and kids can win cool prizes for reading! Area students can also learn about their local public libraries and summer programming using this handy guide.
Educators planning to develop their own summer reading camp for students can check out Camp Summer Read: How to Create Your Own Summer Reading Camp from the Media Library's professional collection.
Students and educators alike will find helpful resources with 

TeachingBooks.

 This Media Library online resource provides access to author interviews, lesson plans, full-text audiobooks, reading suggestions and more. Check out the TeachingBooks curated book lists for iRead's Read Beyond the Beaten Path and more!
No campout is complete without the crackling sounds of a fire. Camping out in the living room this summer? Students can use the copyright-free 

Soundzabound Campsite

 clip for ambience or to create a podcast or video.
Students can explore a number of America's National Parks with the 

TrueFlix National Parks 

category. Watch the video featuring one of America's National Parks, then read or listen to the accompanying nonfiction Scholastic ebook.