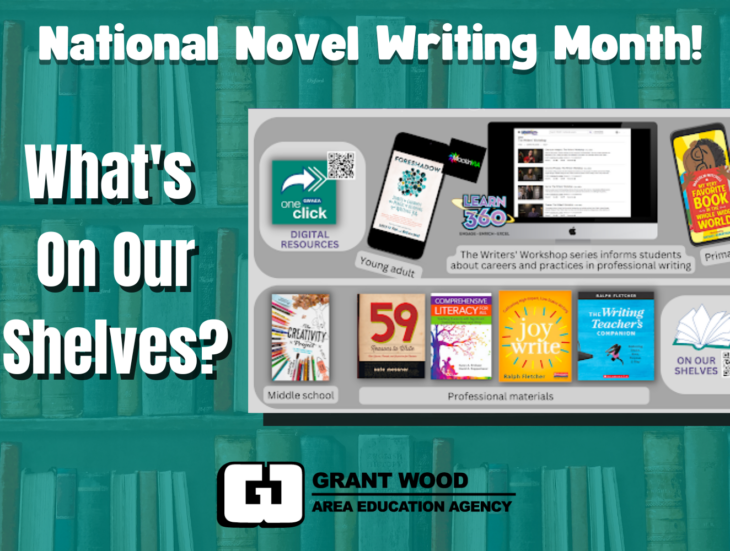 Grant Wood AEA Media Library celebrates the writer within each of us during National Novel Writing Month (NaNoWriMo). In addition to the great resources provided for free by
NaNoWriMo's Young Writers Program
, the Media Library has professional materials to support educators, student materials to inspire storytelling, and digital resources that inform students about professional writing. For more resources or questions, contact Teacher Librarian Dianna Geers.
On Our Shelves
You can book these items through our
new catalog
and deliver them to your school!
Professional Material

"Joy Write: Cultivating High Impact, Low-Stakes Writing"

by Ralph Fletcher shares the whys and the how of giving students time and autonomy for the playful, low-stakes writing that the author maintains leads to surprising, high-level growth.

Student Material

"The Creativity Project: An Awesometastic Story Collection"

edited by Colby Sharp

is a broad and varied collection of creative pieces resulting from a collaborative experiment. Forty-four creators responded to a creative prompt provided by a co-contributor. This book even contains prompts for middle school writers.
Digital Resources
Find these digital resources through
GWAEA OneClick. 
In "

My Very Favorite Book in the Whole Wide World"

 by Malcom Mitchell, Henley

is tasked with finding a favorite book to share with his class. After a disappointing search, he decides to write his own story. This book is targeted to K-3 readers and writers.

Foreshadow: Stories to Celebrate the Magic of Reading and Writing YA

edited by Emily X.R. Pan and Nova Ren Suma

presents an anthology of thirteen short stories by contemporary young adult authors, ranging from fantasy to the experience of Mexican Americans living in border cities. Each story is followed by an author's note, commentary by one of the editors on such topics as voice, imagery and mood. Some include story prompts. This collection is targeted to middle and high school students.

The

Writers' Workshop series from Learn 360

  informs students about careers and practices in professional writing.
Activities and More