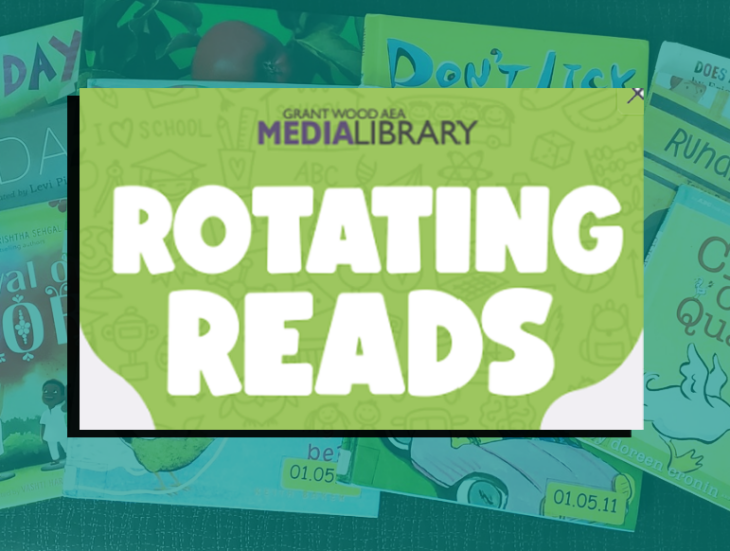 Rotating Reads
We are thrilled to announce that the Rotating Reads program will be back for the 2023-2024 school year!
Rotating Reads sends participating 1st-4th grade educators a box of 25 assorted fiction and nonfiction titles for independent student reading. Boxes arrive approximately once a month with turnaround time varying based on demand and availability. You will be notified when a box is on its way!
How to Sign Up
How to Sign Up:
Log in to the GWAEA Media Library Catalog

💡Quick tip - You may also get to our catalog directly through GWAEA OneClick.

Once logged in, find your name in to right corner of the screen. Click and select Patron Information.
Find Rotating Reads. Click Edit.
Select the grade level(s) you wish to receive.
The program only has books for 1st-4th grades, so even though other grades are in the selection area, they are not available.
Need a tutorial? This video may help!
New Resource Sheets and Labels
Each box will now contain information about one of GWAEA's many Digital Resources and tips for implementing it in your classroom.
In order to make identification easier for educators who teach in several grades, we have now updated the labels on the Rotating Reads boxes. Each color band at the bottom of the label will represent a different grade level.
Book Access for Student Success
Access to books is important for student success. Reading 15-20 minutes every day is linked to
Improved literacy skills
Increased vocabulary
Improved comprehension
Sparked creativity