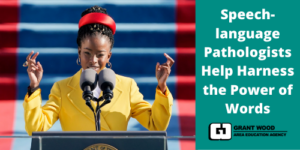 Amanda Gorman read her poem at the 2021 Presidential Inauguration of Joe Biden and Kamala Harris. She was the youngest poet to do so and follows in the footsteps of other greats such as 
Maya Angelou. Amanda's reading was so powerful that many would be surprised to know that she struggled with a speech impediment growing up. "Gorman was diagnosed with an
auditory processing disorder
in kindergarten. She also has speech articulation issues that make it difficult for her to pronounce certain words and sounds," according to
this article in Understood.Org
Amanda turned to writing to get out the words she struggled to speak. She knew her words were powerful and she wanted to be able to speak them. In addition to
speech therapy
, she selected a poem that hit all of her sounds she struggled to articulate and she read it over and over. Practicing speech with lyrical and repetitive words from poems and raps is one great way to provide articulation practice.
At any given time, 3,200-4,200 students in our seven county area are receiving speech-language support services through Grant Wood AEA. Speech-language pathologists work with parents and educators to prevent, assess, diagnose, and treat speech, language, and other disorders in young people. Do you have concerns about your child's hearing or speaking ability?
Be sure to reach out for support!
Want to know another impactul way to develop speech and confidence in speaking abilities? Check out this article: The Power of Wordless Picture Books.