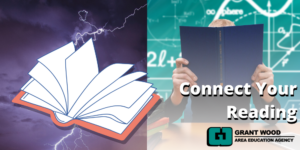 Make reading an exciting part of your summer game plan with BookFLIX, TrueFLIX and TumbleBook. All three are free, easy to access, safe online resources for Pre-K-5th grade learners available from Grant Wood Area Education Agency. Your early reader can flip through ebooks easily with 'read aloud' and other tools like text highlight and prompts for page turning. Spanish options are available with some resources. Best of all, these platforms have titles that connect ones learning across various disciplines. Here are a few ways learners can use these platforms to connect their reading to various subjects, including math and science!
BookFLIX is a digital literacy resource that pairs an animated version of a fiction book with a best-selling nonfiction ebook from Scholastic on a related subject. There are over 120 such book pairs. The fiction and nonfiction pairings are designed to strengthen early literacy skills while introducing young learners to real world concepts.
The following are a few examples of learning opportunities for children using BookFLIX:
TrueFLIX combines Scholastic True Books content along with reading supports for a deep and diverse collection of related videos, images, web links and text. Currently there are over 140 units of study in the area of Social Studies and Science. 
The following are few examples showcasing the learning opportunities for children using TrueFLIX:
TumbleBook features stories brought to life with the use of animation and read aloud activities, which captures the attention of our emergent readers. 
The following are three of the stories available through TumbleBook:
"Stealing Home" by Matt Christopher:

Reading provides opportunities to create relationships. Ever wonder how Joey and an exchange student from Nicaragua appreciate each other's differences? In "

Matt Christopher: Stealing Home,"

learn how their friendship evolves over the game of baseball. 

 

"Just Like Josh Gibson" by Angela Johnson:

Another two-time award winner, "

Just Like Josh Gibson,"

pays tribute to any of us who have had a dream postponed. "

Josh Gibson"

is a reminder to us all that often we have to take one small step, which can lead to something big in the future. 
BookFLIX, TrueFLIX and TumbleBook are among the 27 AEA Online Resources available to all students, preschool through high school, in the Grant Wood AEA service area.
For more information, please contact your school's teacher librarian or the Grant Wood AEA Media Center at 319-399-6754 or 1-800-642-4107. Feel free to directly access BookFLIX, TrueFLIX, TumbleBook and other AEA Online Resources on the Grant Wood AEA website, Educators, and select Online Resources.