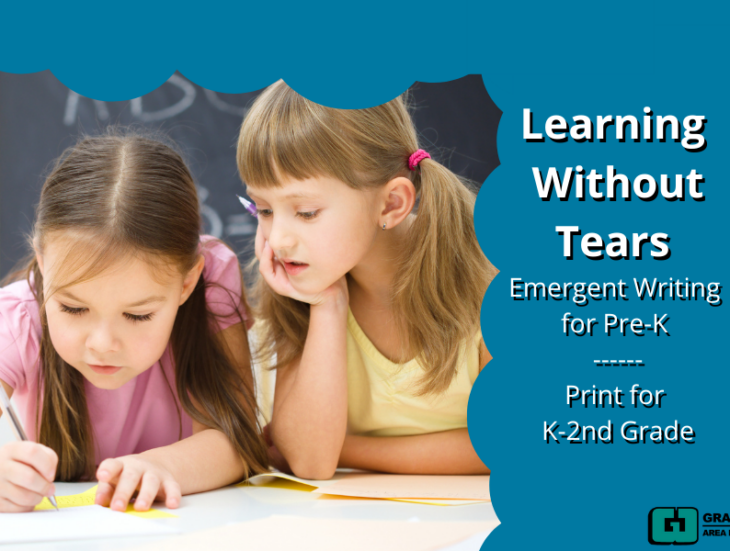 The following professional learning courses are taught by
Learning Without Tears
, professional development trainer.
TARGET AUDIENCE:
Early Childhood and Elementary AEA Education Consultants, Instructional Coaches, Occupational Therapists, Physical Therapists, Special Education Consultants, Speech-Language Pathologists, Teachers
LOCATION FOR BOTH SESSIONS:
VIRTUAL VIA ZOOM
- UPDATE
Emergent Writing for Pre-K
Jan. 31, 2022 at 8:30 - 11:30 a.m.
(**Snow date will be Feb. 28, 2022) Discover proven and engaging multisensory strategies to foster readiness and writing skills. During this face-to-face workshop, participants will experience how to use music, hands-on manipulatives, and technology to help children develop emergent writing. Additionally, participants will discover strategies for teaching grip, alphabet knowledge, numbers and coloring skills in preparation for writing letters.
Register Today: Course #202715
Print, Kindergarten-2nd Grade
Jan. 31, 2022 at 12:30 - 3:30 p.m.
(**Snow date will be Feb. 28, 2022) Get an introduction to our comprehensive, easy-to-use print curriculum which uses engaging multisensory techniques and research-based methods to make handwriting a natural and automatic skill for children of all ages and abilities. Learn about our teaching order, explore grip, understand why we use double lines for instruction and practice, and learn how to integrate our digital tools into your daily instruction.
Register Today: Course #202716