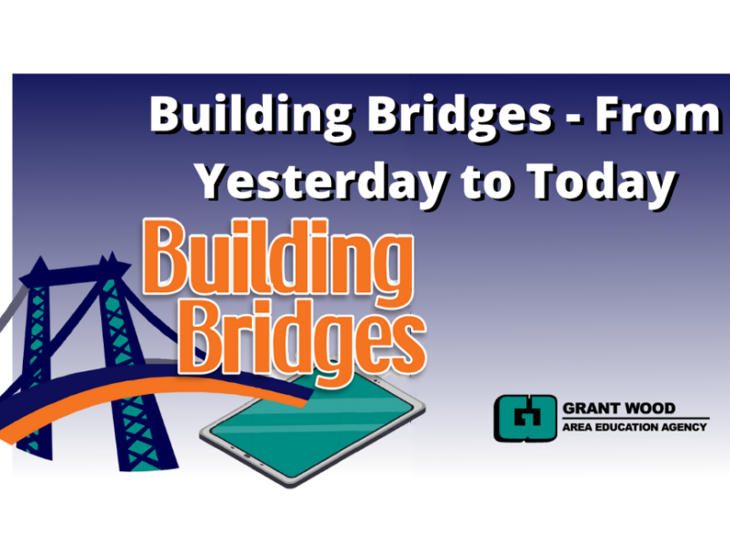 The "Building Bridges" Accessible and Assistive Technology Conference was founded by an AAC & Assistive Technology Consultant at Grant Wood AEA,
Julie Freed
(now retired). The conference began as a concept of bringing together different 'lanes' of professional learning related to supporting students who might have barriers to success in the school setting - in a one-day local conference organized by GWAEA every April. Conference sessions related to tools, strategies and adapted equipment related to physical and motor barriers, communication and language barriers, cognitive barriers, and more were presented by national speakers and local expertise right here in 'our own backyard' to educators and consultants in our AEA, who might not otherwise have a chance to go to national conferences or hear new information and ideas from experts in the field. And then the pandemic happened… There have been some silver linings to the 'evolution' the pandemic created. We realized the extent of barriers that many students have in accessing their learning and being independent. We realized the importance of equity and all students feeling like they belong as authentic members of a learning community. We realized the importance of all students feeling connected with peers, regardless of visible and/or invisible disabilities. More students than ever before now have access to devices with accessibility features built-in that can be used for supporting their learning. More digital tools, programs, and extensions are now universally available to more students to help reduce barriers to learning and help students feel successful. Our general education teachers are reaching out more about maximizing ways to include students with diverse learning profiles and needs into their classrooms. We are also now thinking more about educator and adult barriers and accessibility. We are deepening our understanding of social-emotional wellbeing for both our students and educators - and starting to weave healthier and stronger social-emotional threads into all the work we do. With this new landscape, we continue to build on the solid foundations and pillars of learning that were planted with 'Building Bridges' as we expand our perspectives.
Building Bridges is all about ACCESS - and breaking down barriers for students so that they have more positive and inclusive educational experiences that build success and self-esteem, so that all students can become the best versions of themselves in life.
Barriers to access in learning for students may be with understanding language or concepts, with physical or motor challenges, with specific learning tasks involving reading, writing, or math, with social interactions, with communication, and more. Our students (and educators) have learning profiles and brains as unique as their fingerprints.
The more we can better design universal classroom environments and instructional practices to meet the needs of diverse learners, the more success and fewer barriers ALL students will have in learning - and that will have life-long impacts in future learning, work, life, and overall wellbeing.
Building Bridges is also about collaborating in the design of successful individualized supports and specialized instruction for any unique learners with unique challenges, to promote more equity in enjoying shared learning experiences with peers within the classroom environment and achievement of  higher levels of learning.
The Grant Wood AEA Mission Statement is "To ensure success for all learners." We need to be Building Bridges every day, all year long for our students as we partner with educators to help ensure that all students feel empowered and included as successful learners across every classroom in all of our districts. We are excited and energized to embark on this new, ongoing chapter of Building Bridges and thinking about student accessibility all through the year in an accessible format for our educators, consultants, and parents! Look for updates and more information on the scope and expansion of 'Building Bridges' as we move toward the 2022-2023 school year. Stay tuned!
About the Authors
Kelli Robertson is an accessibility lead at Grant Wood AEA. This is Kelli's 22nd year at GWAEA where she has worked as a building-based SLP and autism consultant supporting various districts. Kelli started on the AT team in 2016 as she found it a fantastic way to 'solution-find' while highlighting and utilizing student strengths to get around barriers.
Need assistance? Contact Kelli at krobertson@gwaea.org.