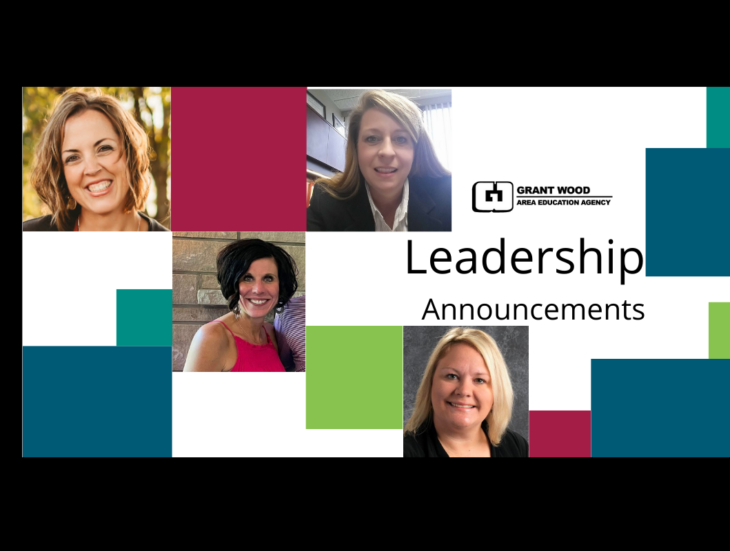 Grant Wood Area Education Agency is pleased to announce several additions and changes to its leadership team.
Mount Pleasant Community School District's Director of Instruction, Katie Gavin, has accepted a position with Grant Wood AEA as a regional administrator.
Katie comes to Grant Wood AEA with more than 20 years experience in educational leadership positions. Katie has been in her current position since 2016, and worked for ten years as the coordinator of media and professional development at Great Prairie AEA. Katie worked for four years as a principal at Notre Dame Schools, a private, Preschool-grade 6 in Burlington, and for five years as a classroom teacher in the Cedar Falls area. Additionally, Katie works as an adjunct professor with Viterbo University.
Early Education Administrator Melissa Grennan has accepted a regional administrator position with Grant Wood AEA, filling the role vacated when Tim Salmon accepted a superintendency position.
Jessica Burger will join Grant Wood AEA as Early Education Administrator, the position vacated by Melissa. Jess will be coming to us from Hoover Elementary in West Branch where she has worked as a principal for 15 years. She also has worked in MFL MarMac Community Schools as a principal and as a kindergarten and first grade teacher with Tri-County Community Schools.
Leigh McEwen
is the agency's new Coordinator of Talent Management position, and will help lead the agency's internal hiring and mentoring efforts.
Leigh has more than 23 years of experience in education. She started her career in education as a sixth grade teacher at Central DeWitt Middle School before joining Mississippi Bend AEA as a literacy and school improvement consultant. Most recently Leigh served as an elementary principal with Northeast Community School District in Goose Lake, IA.