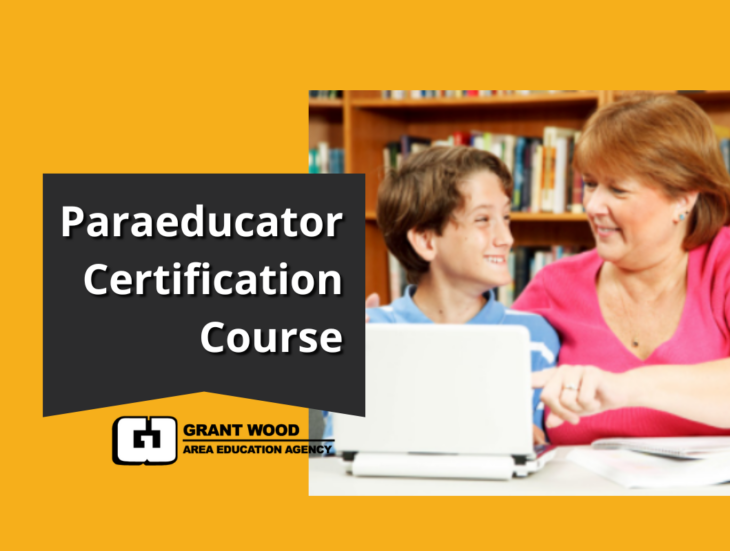 Paraeducators, in partnership with licensed educators, provide a key role in supporting and enhancing the education of children. Want to pursue this fulfilling career path? Register to be certified as a paraeducator today at the link below!
Class will meet in person on Jan. 10, 2023 5:00 - 7:00 p.m. at Grant Wood AEA (4401 Sixth Street SW Cedar Rapids, IA.) The remainder of the course will be self-paced instruction.
This course was collectively developed by the agencies offering paraeducator certification programs in Iowa in response to the guidelines developed by the Iowa Board of Educational Examiners (BoEE). It is designed to build the competencies of people interested in becoming paraeducators in Pre-K—12 classrooms. The six competencies defined by the BoEE cover the vital skills needed for a paraeducator to be successful in the classroom. This 90-hour hybrid (face-to-face and online) course covers all six competencies. After completing the three-hour orientation session on the first evening of class, participants will have a designated time frame to complete the online requirements of the course. The instructor will offer a pacing guide to help participants to stay on target for completing the self-paced moodle coursework on time. In addition to the coursework, participants may be selected for a classroom  observation/s either during and/or at the conclusion of the coursework. Instructor approval of successful completion of this course will meet all of the training requirements and allow the participant to apply for the Paraeducator Generalist Certification from the BoEE. The application procedure will include an FBI Background Check. Fees for the background check and certification are payable online to the BoEE during the application process and are in addition to the course fee that is paid at registration. 
INSTRUCTOR 
Crystal Davis
Next Session: Jan. 10, 2023 from 5:00 - 7:00 p.m.