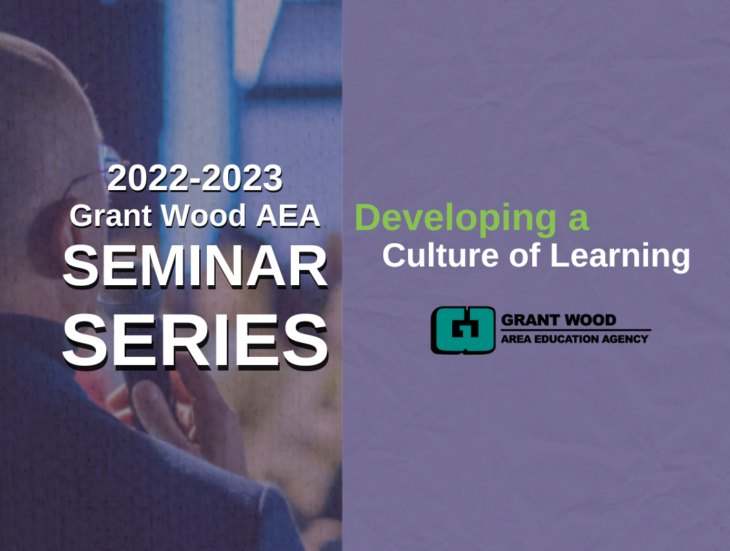 Mark your calendars for the 2022-2023 Seminar Series: Developing a Culture of Learning. This is a great opportunity to learn how schools are rethinking and personalizing learning for students.
The following professional learning opportunities will take place at the dates listed.
Artificial Intelligence, the AI Education Project
Guest instructor Alex Kotran will share his work with artificial intelligence, specifically a project he leads called The AI Education Project which is a 501(c)(3) non-profit, centering equity and accessibility in AI education.
Alex and his team educate students—especially those disproportionately impacted by AI and automation—with the conceptual knowledge and skills they need to thrive as future workers, creators, consumers and citizens. AI is relevant to everyone, especially educators. It will replace jobs and create new ones. And it is already being deployed in ways that impact access to healthcare, financial services and criminal justice.
Oct. 5, 2022 from 1:00 p.m. - 3:30 p.m.
Register Today: Course #203878
P.I.L.O.T. Method
As a former Black Hawk helicopter pilot, Elizabeth McCormick will share what she learned in the military that helped her to lead herself in life. Elizabeth will share her "P.I.L.O.T. method", what she calls the five elemental truths in leadership; 1. Potential, 2. Implementation, 3. Leadership, 4. Optimize and 5. Tenacity.
Nov. 2, 2022 from 1:00 p.m. - 3:30 p.m.
Register Today: Course #203879
A Culture of Achievement
Most school improvement efforts focus on academic goals. But sometimes what can make or break your learning community are the intangibles — the relationships and connections that make up its culture. Dominique Smith and his colleagues believe that no school improvement effort will be effective unless school culture is addressed. They identify six pillars that are critical to building a culture of achievement and embracing a growth mindset.
Dominique will describe how these pillars support good teaching and learning. Effective adult communication and the growth mindset in the classroom will support a culture of achievement in the classroom.
Jan. 4, 2023 from 1:00 p.m. - 3:30 p.m.
Register Today: Course #203880
ATLAS Framework
If we expect students to learn, we must engage them in relevant and meaningful learning. Engagement matters! Weston Kieschnick will provide us with a bold and accessible framework he calls ATLAS. This helps to engage students and educators in learning that inspires genius and sparks curiosity in all students. ATLAS holds both the learner needs and teacher wisdom in equal importance.
Feb. 1, 2023 from 1:00 p.m. - 3:30 p.m.
Register Today: Course #203881
Staying Personal & Authentic in the Midst of Adversity
Presenter Thomas Murray will reveal the power of designing awe-inspiring experiences that are grounded in relationships and are learner-centered by design. As an educator you have the power to leave a legacy by making students' learning experiences personal and authentic. This ensures that the culture around you is personal and authentic, developing and nurturing relationships.
March 1, 2023 from 1:00 p.m. - 3:30 p.m.