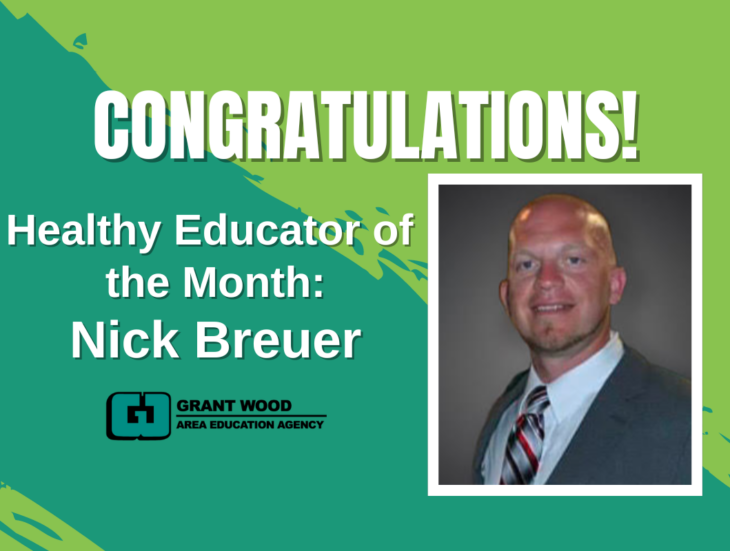 This month's educator goes not to a PE teacher, but a Principal at English Valleys Community School District who is promoting both mental and physical health in his school! This is Nick's first year as Principal of English Valleys CSD and 15th year in education. He WAS formerly a PE/health teacher, a strength & conditioning teacher, he's worked six years in athletic administration, AND he's even worked two years at the collegiate level in sports management/athletics compliance at Missouri State University, so he has plenty of experience promoting a healthy lifestyle. When thinking about his work with students and faculty, the main tip Nick would give is to
 build relationships with students. 
"Without a solid foundation and relationships built on trust, quality learning just won't happen." Nick says. "We must remember we all come from different places. We can't assume we know about the experiences of our students — talking to students/staff about their interests outside of school is a dynamic tool." Breuer shares that these conversations help students make connections, and thereby learn more. "Children don't learn from people they don't like." (Rita Pierson). Nick Breuer shares ways he reduces 'burnout' in his school. "We have what we call a social period. Cell phones are not allowed, but students are encouraged to participate in unstructured physical activity and just get a mental break." Nick shares. This also gives his staff an opportunity to take a break and enjoy each other's company. So everyone avoids burnout!
Know someone who deserves some recognition for their outstanding work? Do you have something cool you're doing at your school that you'd like to share? Email Rhyanne Hartwig to be featured in the next issue!