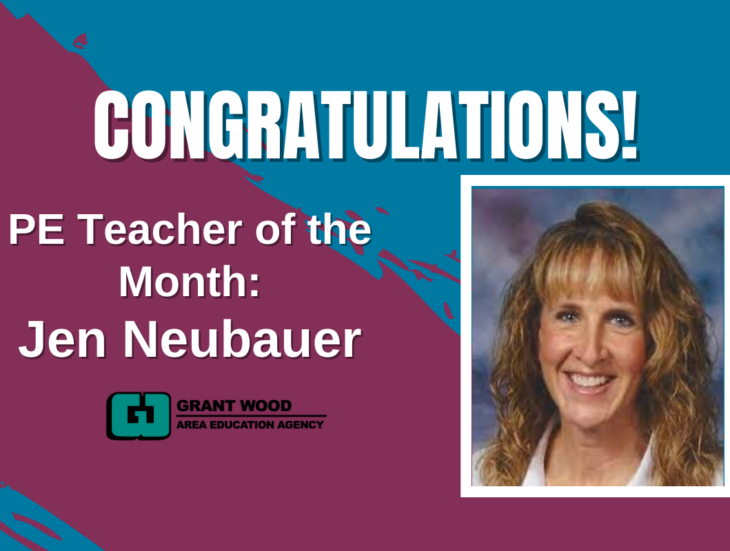 December's PE teacher of the month is Jen Neubauer of Alexander Elementary School in the Iowa City Community School District. Jen started teaching high school PE and health in Urbandale where she helped write a new sophomore wellness class. Later, she helped open a new thematic high school in Kenosha, WI where she spent almost a year writing a unique PE/health curriculum with very little equipment, space or resources. Once she made her way back to Iowa, she was hired by Linn-Mar to write a new sixth grade health curriculum and teach PE/health. During her 5 years with the Linn-Mar district, she saw the opening of the K-8 Oak Ridge School where she taught middle school PE. She then worked at Coe College and Drake University, a non-profit organization called PE4Life in Kansas City, and trained teams of educators/administrators from 50 different school districts across the state on how to improve their PE programs. One tip Jen would give to area PE/health teachers is to become a member of your state and national professional organizations such as 
SHAPE Iowa.
 She also recommends visiting other educators and seeing them in action whenever possible. "
The SPARK PE curriculum
 and trainings along with the 
Kansas Curriculum
 have been the most helpful through my career." she says. "Seeing different teaching styles and strategies always keeps me motivated to deliver the curriculum in unique and engaging ways. — Connect, connect, connect!"
We can summarize Jen Neubauer's philosophy on PE/health education with the following points:
"You rarely succeed at anything unless you have fun doing it!" PE should educate students on the resources and opportunities for a lifetime of physical activity in their communities. Students should leave the class smiling, often sweating, and feeling good about what they did for themselves/others through physical activity.
"I end every class with 2-3 minutes of relaxation." Jen invites her students to close their eyes, calm their brains, and reflect on the lessons they've learned with controlled breathing.
Jen finally encourages all PE teachers to be open to new ideas! "Continue to educate yourself on various ways to meet individual needs of our learners through modifications and specially designed instruction. Tap into resources at Grant Wood AEA and ask questions! The needs of your learners are diverse."
Know someone who deserves some recognition for their outstanding work? Do you have something cool you're doing at your school that you'd like to share? Email me to be featured in the next issue!