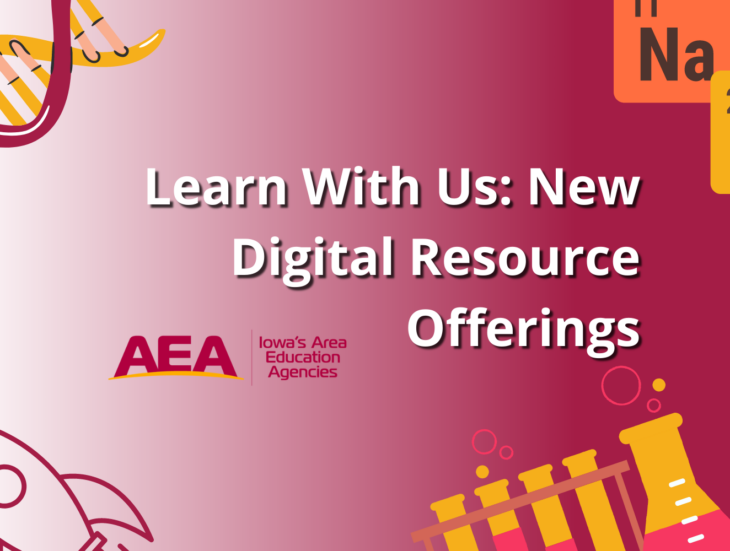 Upcoming Digital Resources Webinars
Learn more about the AEA digital resources by attending these upcoming webinars! Recordings will be available for those who aren't able to attend in real time. If you have any questions, contact
Tracie Marshall
, media/technology project & purchasing coordinator.
Power Knowledge Science Suite (3rd - 6th Grade)

Learning is seriously fun with Pre-K Science! After an introduction to the curriculum-correlated content and lesson plans, we'll explore the nooks and crannies that will delight you and your students: science fair projects and experiments, interactive games, scientist profiles, live video feeds and nature cams. Enter Dr. Legbone's Laboratory, and I double-dare you to build "the creature" before we meet!

Jan. 24, 2023 from 3:15 - 4:00 p.m.

Core Concepts Science Suite (7th - 12th Grade)

The Core Concepts Science database provides a bridge between textbook, inquiry and technology. In this guided tour, see how students can explore the world around them, from the subatomic level, to molecules, to the animals, plants and ecosystems they make up and beyond! We will build a molecule and save ecosystems and experience the wonders of the Periodic Table far beyond what you remember from high school with the interactive activities. From digital flashcards to digital story-telling opportunities and video galleries to science experiments, prepared to be amazed!

Jan. 26, 2023 from 3:30 - 4:15 p.m.