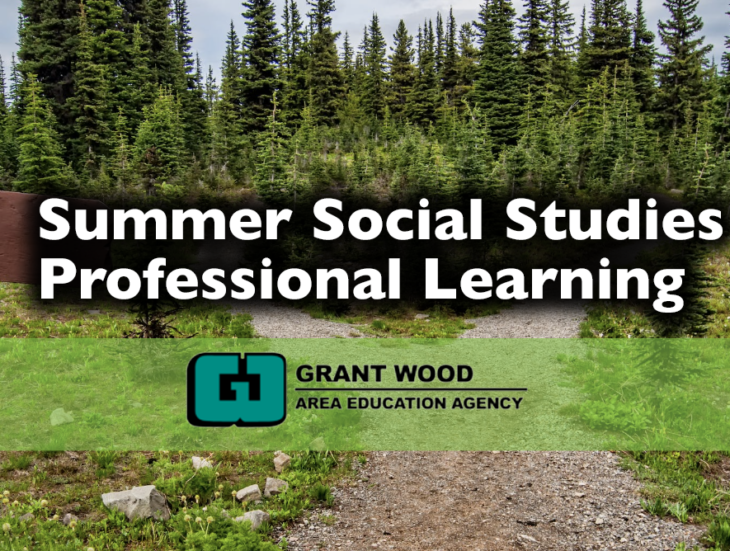 Four differentiated professional development "pathways" will be offered this summer to support high quality teaching and learning in social studies. The four pathways are:
Pathway 1: Inquiry 101

Pathway 2: Unit Planning in Social Studies 

Pathway 3: Disciplinary Literacy and the Use of Primary Sources

Pathway 4: Visible Learning in Social Studies Book Study
In order to identify which workshop(s) to take, it is recommended that you take this pre-assessment. This will help better understand the goals of each workshop and help you better understand which elements of standards implementation you may need more knowledge or skills in.
There will also be follow up webinars to help participants share what they learned and reflect on that learning, while working to implement what they learned in the classroom.    
License renewal credit will be available for anyone who takes two workshops. 
Register by filling out this form. 
"Pathway" Workshops Overview
Pathway
Objectives
Date

Pathway 1: Inquiry 101

Define inquiry and the inquiry arc in social studies. 

Examine how inquiry is the basis for disciplinary practices in social studies. 

Examine the connection between the social studies standards and inquiry. 

Construct compelling and supporting questions and explain how they connect to the inquiry arc.

June 12, 2023

9:00 - 3:00

Keystone AEA

2310 Chaney Road,

Dubuque

Pathway 2: Unit Planning in Social Studies

Identify core elements of high quality units in social studies.

Unpack a bundle of social studies standards to identify how to create an aligned unit. 

Identify best practices in social studies instruction.

Apply elements of high quality unit design to the creation of a coherent social studies unit.

July 19, 2023

9:00 - 3:00

Heartland AEA

602 Visions Pkwy, Adel

Pathway 3: Disciplinary Literacy and the Use of Primary Sources

Identify disciplinary literacy and what it means in social studies. 

Distinguish the connections between the social studies standards and use of disciplinary literacy. 

Distinguish between primary and secondary sources and how their use relates to disciplinary literacy. 

Understand and select appropriate strategies for use of primary sources in a social studies classroom.

July 17, 2023

9:00 - 3:00

Northwest AEA

5800 Al Haynes Drive,

Sioux City

Pathway 4: Visible Learning in Social Studies Book Study

Recognize effect size and what effect sizes mean for high level learning. 

Identify the difference between surface, deep and transfer level learning. 

Determine the connections between the social studies standards and elements of surface and deep level learning. 

Select and/or construct strategies best suited for each level of learning.

July 18, 2023

9:00 - 3:00

Heartland AEA

602 Visions Pkwy, Adel
Content Support Learning
Date
Topic
Location
Registration Information

August 7, 2023 

9:00-3:00

Landmark Supreme Court Cases

Workshop by TeachingAmerican History.org 

Iowa State Bar Association, Des Moines

Registration form

August 8-9, 2023

+

pre and post webinars 

Webinar dates:

Pre-webinar: July 20, 2023 at 1:00 CST History of European Anti-Semitism

Post-webinar August 14, 2023 at 1:00 CST Jewish American Experience

The Holocaust 

Workshop by Echoes and Reflection in partnership with the Jewish Historical Society/Iowa Holocaust Council + pre and post webinars with ICS.

Caspe Terrace, Iowa Jewish Historical Society, Waukee