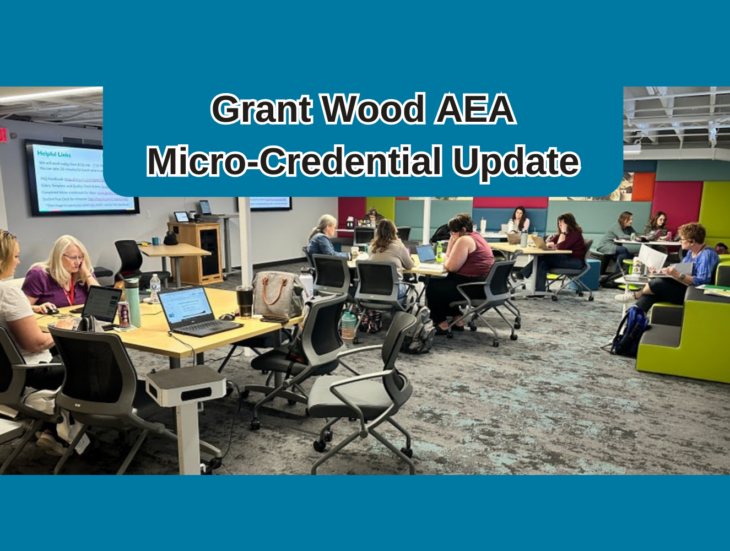 Micro-credentials are just-in-time learning designed to meet the unique needs of today's educators. 
This is also a phrase many Grant Wood staff members have become familiar with over the last year or so. A total of 85 staff members across the agency have been working tirelessly to build a robust library of content to meet the diverse needs of area educators. We are always looking for more content-creators, so keep this option in mind as you are creating presentations and in-person learning. The goal for these micro-credentials is to create a library of research-based content for area educators to go in order to build capacity in certain areas. This would mimic the top-notch, face-to-face opportunities we provide area educators in-person to transform to a more asynchronous experience. Today, we have 
over
50 published micro-credentials
 from a diverse list of topics with 
over
40 more in progress
. These range anywhere from one to three and a half hours each. Area schools are also taking advantage of this learning option by incorporating micro-credentials into their professional learning plan or differentiating their professional learning based on needs of staff. Since April 2022, 
16 schools
 reached out to us to support utilizing the option of micro-credentials to a broader audience within their schools, whether it is whole-district, whole-school, PLCs, leadership teams or teacher choices based on a smaller list of options which best fit their needs. This option is growing and we are excited to continue to try new things with area schools. Since we began tracking usage in November 2022, we have logged 
693 micro-credentials which were started
 by filling out our demographic survey. We have also had 
603 completed micro-credentials
 where educators engage and then fill out the feedback form after completing the learning. From ongoing analysis of the data, we can surmise that we have a 
87% completion rate
 of those filling out our demographic and feedback surveys at the beginning and end of the learning. This is a positive outcome and the numbers are only continuing to grow as educators are taking advantage of the Personalized Playlist option. This means participants can bundle 15+ hours of micro-credentials to get license renewal credit. A few of our participants have shared some of their final projects. 
Monticello's Kolby Harms reflects on his learning in this video. 
We look forward to continuing to update you on how micro-credentials at Grant Wood AEA continue to evolve to meet the needs of area schools and educators. You can find out more by visiting our library: 
gwaea.org/mc
 or checking out our 
FAQ page
.