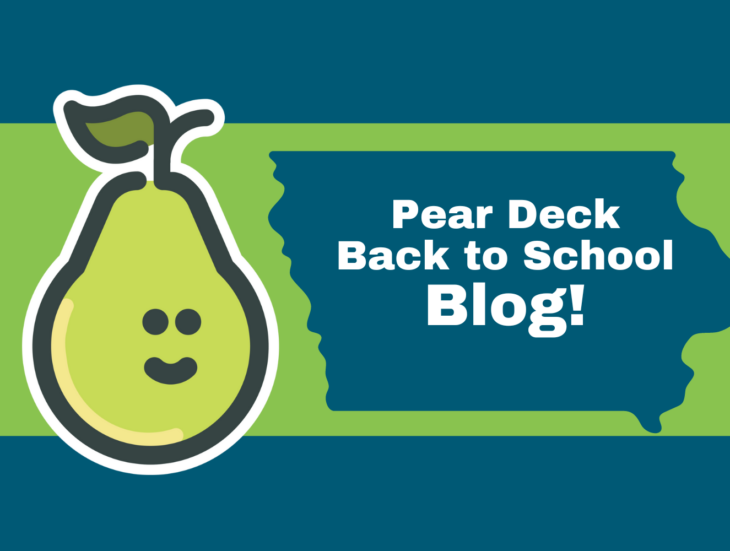 Pear Deck is for ALL Iowa Educators
As a reminder, Iowa's AEAs sponsor statewide access to Pear Deck, giving every Iowa educator access to a premium account! Here are some helpful resources and upcoming opportunities to get the best use out of this tool. For those who don't know, here's
a quick introductory video
that explains Pear Deck.
Become a  Pear Deck pro in upcoming learning sessions
Monthly Synch Sessions
This monthly sync is intended to create a space to answer any and all Pear Deck related questions. In these syncs, Brittany, from the Pear Deck team, will use the time to cover Pear Deck updates, dive into features, and highlight teachers in the state of Iowa. This is for Iowa educators to learn more about Pear Deck, but also to get your questions answered. To add your question or topic to the agenda complete 
this form
prior to the sync session!
September 26, 2023, 3:30-4:15pm
October 24, 2023, 3:30-4:15pm
November 28, 2023, 3:30-4:15pm
December 12, 2023, 3:30-4:15pm
On Demand Webinars
Pear Deck District Library
Watch this 5-minute video to learn how the new Pear Deck District Library helps to promote collaboration, efficiency, and consistency in instructional material by enabling educators to share standards-aligned materials with other teachers in their school or district.
Additional Resources
Resources for expanding your knowledge:
Resources from your AEAs: