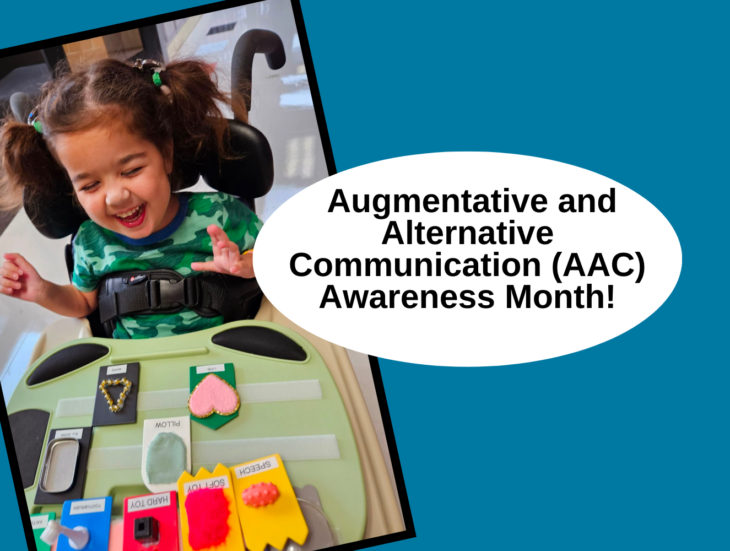 October is Augmentative and Alternative Communication (AAC) Awareness Month! Children and adults with severe speech or language barriers may need to find other ways to communicate besides talking. There are many types of AAC they can use and Grant Wood AEA speech-language pathologists are here to help!
Here are just a few ways GWAEA SLPs supported area students this year:
Jess Krob, Speech Language Pathologist, models an Emergent Literacy routine called Shared Reading for a special education teacher in her district. Shared reading is an Emergent Literacy strategy that focuses on building a student's language and literacy skills during an interaction with a familiar book. 
| | |
| --- | --- |
| In this picture, the SLP and the student use the large core vocabulary poster to interact and talk about the book. Grant Wood AEA offers a course, Comprehensive Emergent Literacy for Students with Significant Disabilities, once a year that provides foundational knowledge of routines and instructional strategies for students with significant cognitive delays and complex communication needs.  | |
Last year, Grant Wood AEA speech-language pathologists Whitney Kramer, Meghan Wright, Tom Wright and Cassie Vasquez created playground core boards and received a grant to provide them to school districts across the AEA. These boards include images of 36 highly useful words that can be used alone or in combination in communication instruction.
| | |
| --- | --- |
| This picture was recently captured by a staff member at Prairie Hill Elementary (CCSD) of kindergarten students using the recess core/fringe board to communicate with a minimally-speaking peer. | |
Jen Kaiser, GWAEA Speech Language Pathologist at Hiawatha Elementary, is working with five year old Gwendolyn (seen pictured). Gwendolyn is deaf-blind and diagnosed with a peroxisomal disorder.
| | |
| --- | --- |
| Gwendolyn currently uses bilateral cochlear implants with a HAT (hearing assistive technology) and is starting to use a tactile core board to communicate at home and school. | |