Work with the best. Iowa's AEA system is nationally known as one of the best intermediate service delivery systems for schools.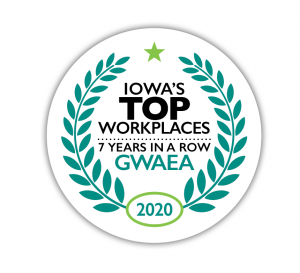 Its innovative structure and integrated system of service delivery is widely respected by school leaders across the country.
Learn more about working with Grant Wood Area Education Agency, an organization that has been voted among Iowa's top workplaces for seven consecutive years.
Come Work With Us
Grant Wood AEA provides support to children, K-12 students, teachers, administrators, media specialists, nurses, paraeducators and families in 32 K-12 public school districts and 22 approved nonpublic schools, preschools and daycare centers. The Grant Wood AEA service area includes Benton, Cedar, Iowa, Johnson, Jones, Linn, and Washington counties in east central Iowa. View our current openings on this page below.
Current Job Openings with Grant Wood AEA
Contracted (Professional/Non-Instructional)
Classified (Support Staff)
Keep an eye out for a more up to date list of current job openings at Grant Wood AEA here.
---
Research and apply for our positions
Grant Wood AEA uses the Teach Iowa system for all job openings. Applicants wishing to apply for open positions will be directed to the Teach Iowa Employment Application.
Please note the following materials are needed for a complete application package:
Salaried, contracted and management positions
Please also upload to your completed application a letter of interest, resume, copy of transcript of highest earned degree, and copy of license, if applicable. Applicants are encouraged to submit three letters of recommendation.
Classified, hourly positions
Please upload to your completed application a current resume along with your application. For positions requiring post high school training, please also submit a copy of the transcript.
For assistance
If assistance is needed in completing the online application, please contact Kathy Resewehr, HR Administrative Assistant, at 319-399-6748, toll free 1-800-332-8488, x6748 or kresewehr@gwaea.org.
---
Grant Wood AEA is an equal opportunity employer
Grant Wood Area Education Agency extends equal opportunities in its employment practices, educational programs and services, and does not discriminate on the basis of color, gender, race, national origin, religion, creed, age, sexual orientation, gender identity, marital status, disability, veteran status or as otherwise prohibited by law. Our agency's EEO / Affirmative Action plan is available for your review.