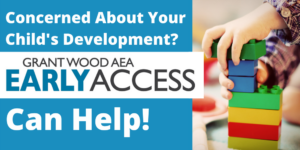 Many parents often ask questions about their child's growth and development. As parents, it can be scary not knowing what to look for as your child grows and develops. Should my child be crawling yet? How many words should my child be using? Is my child on the right development track or are they behind the curve? If you or your doctor has concerns regarding your child's development you can find professionals at Grant Wood Area Education Agency who can help.
Have you heard of Early ACCESS?
Early ACCESS connects families that are concerned with their young child's development to local Iowa Area Education Agencies (AEA). The partnership between the Iowa Department of Education, Public Health, Human Services and Child Health Specialty Clinics work together to create this program.
How do young children learn?
Children learn by copying the activities done by their guardians and other children around them. Caregivers and other children are teaching them without realizing it!
How can guardians learn to support their child's growth?
Early ACCESS service providers get to know families' daily activities, priorities, and hopes for their child. Together, service providers and parents or guardians plan learning activities and routines around what the family already does.
What are everyday routines and activities?
Routines are activities we do so much we may not have to think about what we are doing to complete them. For example, changing diapers, getting a snack, or picking up toys are all routines. Inviting children to assist with routines and activities is a way to help them learn and grow. 
Other activities that can be helpful learning activities for children include:
Watering flowers

Playing peek-a-boo

Dropping brothers and sisters off at school

Or feeding the dog
Does this work? I am not a trained therapist or teacher.
Yes! Service providers do not expect caregivers to do what they do. They support families by coaching them to help their child grow and learn. The more children are able to practice skills, the more they are being supported in development.
What if I don't have time? Do I have to have a schedule?
There is no need for a special time or schedule. Children learn throughout the day and service providers will work with you to find ways to embed learning into daily activities.
Do you want your child evaluated for potential delays? Contact us with this form.