Chalk Talk provides the opportunity for students to engage in silent conversations. Silent conversations allow students to take the time to consider new thoughts and ideas without being interrupted by a verbal classroom discussion. Instead, students share their comments by recording them, analog or digital. As students consider the comments and ideas of their classmates, they have the time to form deeper thoughts and share new ideas as the conversation grows. In conclusion, students share what was written aloud to the whole class and debrief about the experience.
Once again, when a new routine is introduced, students may need modeling and prompting to push their thinking and to provide meaningful additions to further the conversation. This may not be intuitive to students. Providing stems to support this might be beneficial.
This strategy easily lends itself to a digital learning environment and perhaps could even happen asynchronously as students become more independent, but always ending the routine with a synchronous share out and debrief. A digital tool, like Jamboard, allows for students to record ideas quickly and efficiently. We created a template to help you get started.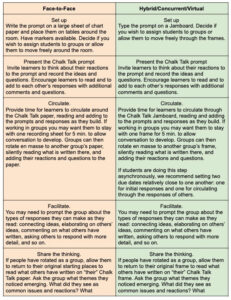 To create and use this template:
On the first frame, we added a sticky for the Chalk Talk prompt and additional thinking prompts to support student commenting.
We duplicated this frame for 5 groups. You can duplicate more frames if needed.
You will want to set the editing rights to 'anyone with the link can edit' when you share with your students.
Additional Resources:
Ask better questions with these questioning stems

~Gina and Mindy