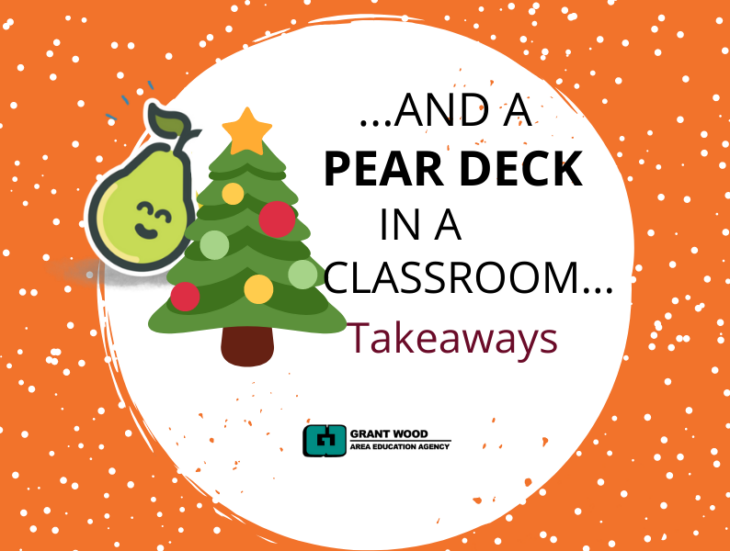 Special Note: This blog is about the Premium Pear Deck Feature of Takeaways in Pear Deck. All Grant Wood AEA Schools have access to the Premium version of Pear Deck. You do need to enable Takeaways at Peardeck.com under My Account → Settings.
Pear Deck Takeaways are this great little present that you can offer your students after they have had the experience of a Pear Deck. When you end a Pear Deck session, you can choose to publish Takeaways to your students. If you check this box, it will deliver an individual Google Doc that includes images of each of the slides of the Pear Deck along with the responses that the student entered.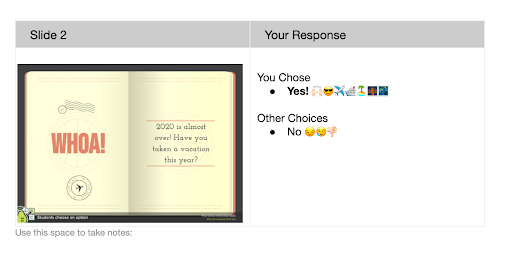 You would use Takeaways when you want to be able to offer students a record of their work and access to the content that was presented in class. Takeaways includes a copy of all of the slides and any links you've included in your Pear Deck.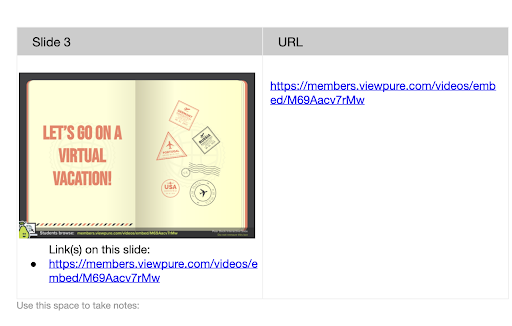 So, let's consider some ways that we can keep engaging in the learning with Pear Deck Takeaways when you set-up your Pear Deck as...
Pre/Post Assessment. Pre-assessments can be great ways to help teachers better understand what your students know. Allowing students to access the answers from a pre-assessment through a Takeaway can help them to self-reflect as the unit progresses and focus in on areas where they need assistance. You, as the teacher could refer to the Takeaways throughout the unit of study by either having students use the Takeaway as they are learning about that piece OR have students be reflective and add to their responses directly on the Takeaway after completing different lessons.
Homework. Use a Pear Deck to deliver the lesson and add on some Pear Deck Interactives for students to complete on their own. This way, students will be able to access any of the materials you presented as you shared information to assist them with their Homework. Plus with the Teacher Dashboard, you can get a sneak peak into your students' work. Close the session before class begins. *Note that Pear Deck says it can take up to an hour to send the Takeaway, so don't put it off until right before! However we have not had it take more than a few minutes.  When students come into class, you could structure the class to use the Takeaway in different stations to help them expand on or review different content. Have students use the commenting feature built within Google Docs to bring the Takeaway into an interactive document with you or other students.
Content Review. Whether you facilitate it as a whole group, in-class review in Instructor-Paced Mode or self-paced review or practice assessment in Student-Paced Mode, Pear Deck can be a powerful tool to check on students' understanding of the content. When you close the session and send the Takeaway to your students, they can use it as a review guide to help the students prepare for the test. With the side-by-side view of the slide and their answer, students could even print off the Takeaway and fold the paper in half to create a physical flashcard.
Bonus Ideas! Consider this:
Standards-Based Grading: Do you ask your students to provide evidence of learning for different standards? Use the record that is provided within the Takeaway.
Parent Teacher Conferences: Share examples of Takeaways at Parent-Teacher conferences to help parents better understand what their child is working on in class. Did you know that each teacher gets a copy of all of the Takeaways shared in their Drive?
*Slide Deck shown in Takeaways was created by Lori Price & Kristan Hunter from Mid-Prairie Schools
Additional Resources
Content submitted by Amber Bridge, Mindy Cairney, & Beth Swantz, Digital Learning Consultants at Grant Wood AEA