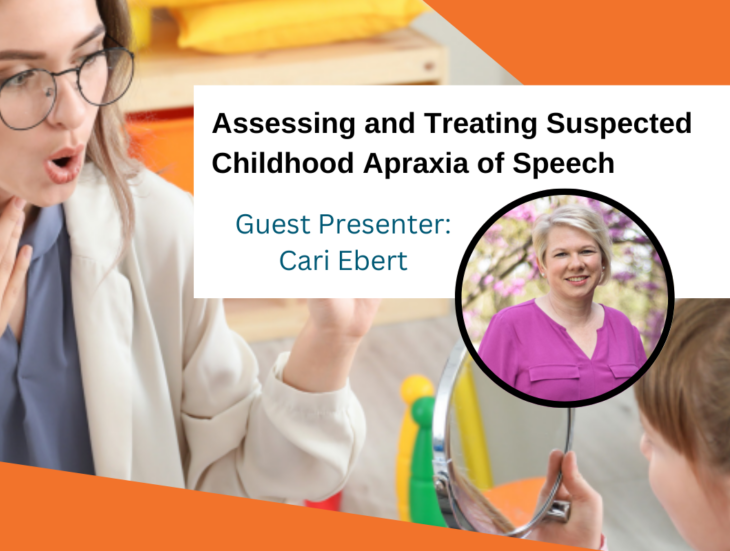 Working with minimally verbal young children requires speech-language pathologists to differentially diagnose between a delay and a disorder. When childhood apraxia of speech
(CAS) is suspected, a different path of intervention must be followed because these children will not benefit from traditional speech therapy approaches. There are plenty of assessment tools, therapy materials and continuing education courses available for providers treating older children with CAS, but there is limited clinically relevant information regarding the assessment and treatment of young children with suspected CAS. This seminar will provide a hierarchy of therapy goals, strategies and activities based on the principles of motor learning.
Special Guest Presenter: Cari Ebert
Cari Ebert, MS, CCC-SLP, is a pediatric speech-language pathologist in private practice in the Kansas City, MO area. She received her bachelor's degree from the University of Iowa in 1993 and her master's degree from Southern Illinois University at Carbondale in 1995. She is a therapist, consultant, author, product developer and nationally recognized speaker who gets paid to do what she loves most - TALK! Cari's son has dual diagnoses of autism and apraxia, allowing her to engage audiences both as a professional and as a parent of a neurodivergent child. She has an energetic personality, and this translates to a high-energy speaking style. Cari specializes in apraxia and is co-author of the book
"The SLP's Guide to Treating Childhood Apraxia of Speech."
She also has created a variety of therapy products designed to support emergent speech.
Registration Deadline: Oct. 28, 2022
Date: Nov. 4, 2022 from 8:00 a.m. - 3:30 p.m.
Grant Wood AEA: 4401 Sixth Street SW, Cedar Rapids, IA
Register Today: Course #203403