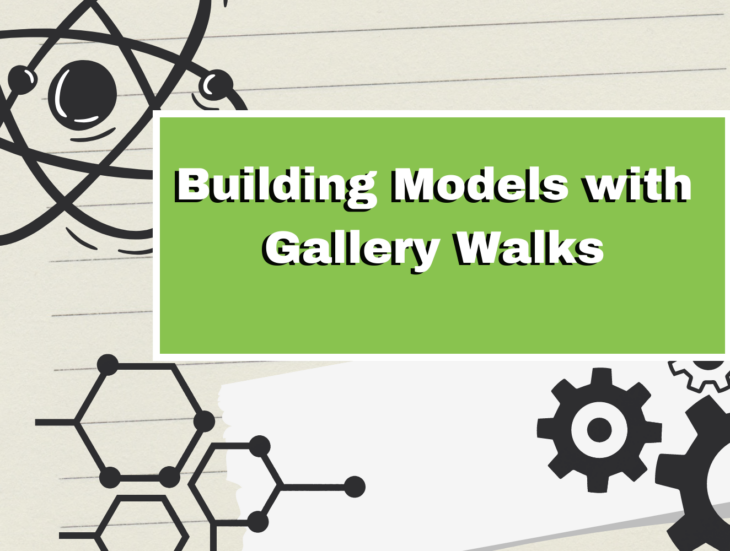 The important practice of creating models brings life to content and concepts that are part of the Iowa Core Science Standards. When students create models, they interact with ideas, making them visual to move their scientific thinking forward. 
From
The Modeling Toolkit: Making Student Thinking Visible with Public Representations
. "This practice is central to the work of science because modeling activities can prompt new questions for investigation, which, in turn, can lead to evidence and information that can be incorporated into a revised model. Models can also support explanations of natural events and processes."
It's important to keep in mind that you are not asking students to create a single model that could be copied from a textbook. The act of creating a model is representative of their current thinking and like their current thinking is always in a state of motion. Student-created models have inertia. The models need to be seen as a way for students to express what they currently know and update it as they learn more. Modeling could seem like a large task, but it's important to consider that models can exist in many forms. Modeling is an accessible practice for students because it can take on many forms. Some of them, very simple - like a drawing. Some could be more complex like a 3D structure. Consider these examples below where students create drawings, use their bodies to show a system model, and create a 3D model:
3D Models of Photosynthesis, Alburnett Middle School
Drawing model of how shadows work and rotation/revolution: Iowa City, Lemme 5th Grade
Students at Center Point-Urbana High School Involved in a modeling activity using their bodies. They are working in relay lines to gather pieces of mass (larger as they go) to eventually be a planet. They learned that the more mass an object has, the more gravity it has and the bigger pieces it attracts.
As models are in their state of motion, they will continually evolve as students move their scientific thinking forward. Students will do this by gaining knowledge through different classroom experiences and through feedback from their peers. Consider how an instructional strategy of a Gallery Walk can be paired with modeling. Gallery Walks open the door to explore students' models.
During a
gallery walk
, students explore different models by moving around the room. Explore this idea more through
this one-pager for quick reference
. From the,
The Modeling Toolkit: Making Student Thinking Visible with Public Representations
article consider the strategy called: sticky notes and sentence frames as tools for providing feedback for models.  As students move around the room, consider using sticky notes and sentence frames to help guide thinking and give more purposeful and focused feedback to students. When "adding an idea," students would use an orange sticky. When "revising an idea" would use a green sticky or when "posing a question" students would use a purple sticky. 
If you want to open the door between your classes, by allowing 3rd period to give 6th period feedback, this could seem challenging if you are thinking about physical sticky notes. Consider this Google Slides or Jamboard Template we created using digital sticky notes. This would allow students the opportunity to see students work from other classrooms and could allow for a more open conversation around diverse ideas.
The purpose of a model Gallery Walk is to explore ideas of others and generate conversation and feedback. The model provides a great visual for students to explore during a Gallery Walk. The feedback provides a mirror for students to see their work through others' eyes. Students can consider this feedback from their peers as they think about how their model best represents their current thinking. 
The Transformative Classrooms team at GWAEA has created a
one-page strategy sheet
around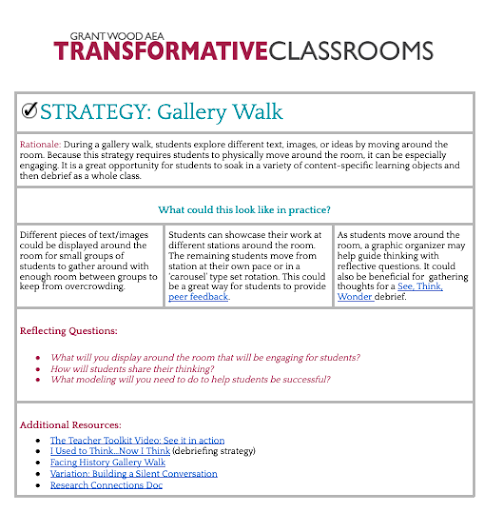 Gallery Walks. For additional information click on the images to enlarge.
Click here
for additional information on Transformative Classrooms.
Additional Resources: