Design with Digital Tools
Listen to Our Podcasts
The Digital Learning Team offers PD on demand through the medium of podcasting!
The Edtech Take Out features a variety of great guests and topics that are centered around teaching with digital tools.
In Divergent by Design, we talk about instruction, edtech tools, and classroom practices through the lens of the Universal Design for Learning Guidelines.
Blended Learning becomes Transformative Classrooms
Student engagement is a current and growing challenge in today's classrooms. Research supports the idea that student engagement leads to students who are more invested in their learning. However, activating your learners can feel insurmountable. Transformative Classrooms addresses this need by providing tools and strategies to help build a more collaborative learning community through engaging instruction. 
Transformative Classrooms is organized into three large tenets: 
Collaborative Learning Communities

Engaging Instruction 

Self-Directed Learners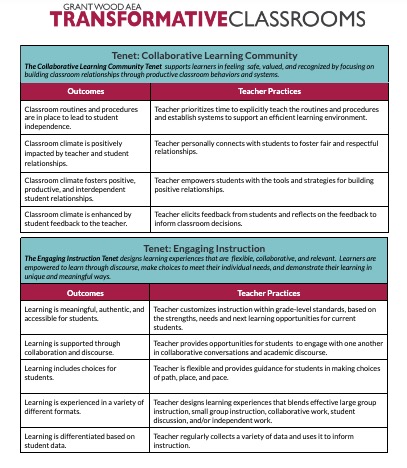 A copy of the tenets of Transformative Classrooms can be found here.
Transformative Classrooms training works to personalize professional development for teachers. Building on the existing classroom foundation, teachers use the tenets of Transformative Classrooms to self-assess and identify a specific problem in their classroom. To solve this problem, teachers collaborate with GWAEA Transformative Classrooms coaches to explore strategies and begin a goal setting and reflection cycle. 
By tailoring learning to meet teachers' strengths and needs, teachers experience the power of personalized learning while applying the process to their own classroom. Transformative Classrooms training works to shift the focus to the learners by providing choice in the ways that learning occurs and elevating the learners voice throughout the process. 
We offer several options for school districts, buildings or small groups of teachers or individuals. Recertification credit options are available for each of these options.
Please email Mindy Cairney or Beth Swantz for more information on Transformative Classrooms at Grant Wood AEA.